Welcome to Burnley AC
Burnley AC is a long established club going back many years originating with an old cinder track. The track was upgraded in 1998 to the present synthetic track through various joint fundings with Burnley Boys Club, Burnley United FC, Burnley Athletic Club and Burnley Borough Council.
An upgrade of the Hammer/Discus cage in 2011 now allows the club to host Local, National Regional competitions.  This again was awarded to us through various fundings.
The Clubs Coaches and Officials are all UKA qualified and hold current DBS certificates, as volunteers they each give up their spare time free of charge to run the Club so that all Membership and Track Fees go toward the upkeep of the Club and the Affiliations to the various Leagues the Club competes in.
Transport to and from meetings can be arranged through volunteer drivers, the Club does not cover costs of entries and transport to Open competitions, League Medal meetings or Championship meetings.
Please follow this link to locate all UK Athletics Tracks :-
We are members of, and compete in various leagues:
Please click on the links below.
Mid Lancs Track and Field and Cross Country League
North of England Athletic Association Senior League
Presentation Evening
Annually we hold a presentation evening, this is when our Athletes are rewarded for their hard work over the previous Cross Country & Track & Field season.
Certificates and Trophies are awarded. This is a good time for all the Athletes, Parents, Families and friends to get
together for an enjoyable social evening.

Next Presentation Evening

11th november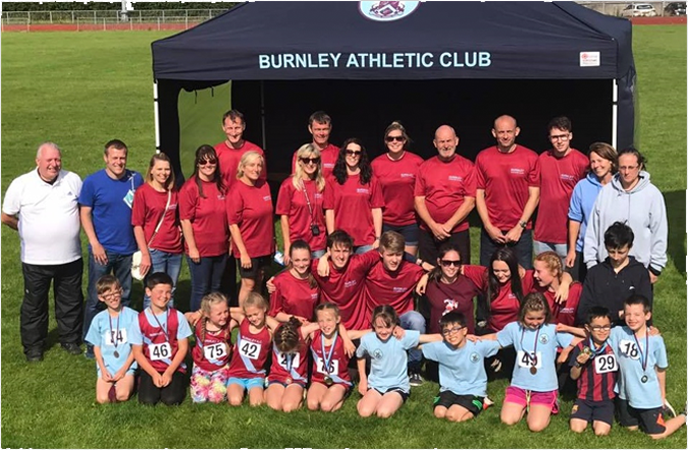 Burnley AC caters for all ages and all abilities over the age of 7 years old, male and female.
We have a growing 7 to 11 year old group who train on Mondays and Thursdays between 6.30pm and 7.30pm.
All other age groups 11 and over start at 6.30pm and finish at 8.00pm on the same nights, everyone is welcome.
(please arrive before 6.15pm for registration and warm up's as this will allow a prompt 6.30pm start.
Age Groups
U11's-U13's-U15's & U17's :-
are determined by their age at midnight 31st August.
U20's = Under 20 on 31st December this year.
Seniors :- = are determined by their age on the day of competition
Masters :- = must be 35 years old or over on the day of competition.
U9 = School Years 2 & 3. U11 = School Years 4 & 5.
U13 = School Years 6 & 7. U15 = School Years 8 & 9.
U17 = School Years 10 & 11
Training Times
Age 7 to 11
Monday + Thursday
6:15pm – 7:30pm
Age 11 to Over
Monday + Thursday
6:15pm – 8:00pm